Last week, I began a topical analysis on the Book of Enoch, with special emphasis on the following passage:
And Azâzêl taught men to make swords, and knives, and shields, and breastplates, and made known to them the metals of the earth and the art of working them, and bracelets, and ornaments, and the use of antimony, and the beautifying of the eyelids, and all kinds of costly stones, and all colouring tinctures.  And there arose much godlessness, and they committed fornication, and they were led astray, and became corrupt in all their ways. (1 Enoch 8:1)
To recap, my conclusion is that this refers to "magical" knowledge used for occult purposes as opposed to technological. I parsed my thoughts on this using examples from the likely time period of the book's composition in Ancient Babylon (see Thoughts on Enoch, Part 1). I still find this the most reasonable reading of the text.
There's just one thing: this perspective may have led me down a fairly terrifying rabbit hole. Let me show you what I mean with another set of examples.
Example of an "Athame" blade used by Wiccans and Satanists in occult rituals. See also Magical Tools in Wicca article on Wikipedia. 
This thing is for sale, mind you.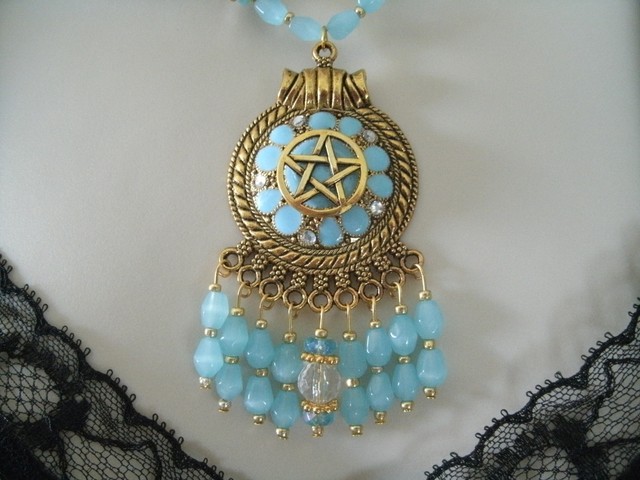 Wiccan shield necklace for magical protection (also for sale). 
Modern Egyptian breastplate necklace. Perhaps not as overtly occultic as the other examples, but…
The fabrication of mirrors:
A scrying (i.e. divination) mirror for sale. You can get these on eBay. EBay!
The workmanship of bracelets and ornaments:
Just one example of a Satanic bracelet – also for sale. Why?!
The use of paint, the beautifying of the eyebrows…all sorts of dyes:
A "modern" look… or perhaps a very ancient one? 
The use of stones of every valuable and select kind:
Sphere gemstones used in witchcraft for their occult "energies." Like pretty much everything else I've covered, they are – you guessed it – for sale. 
Disturbing much? 
Join  me next week as I wrap up this series in Part 3.